Award Winning Landscape
Where do we start? How does this work? These are questions often asked by folks interested in a professionally designed landscape that will stand out in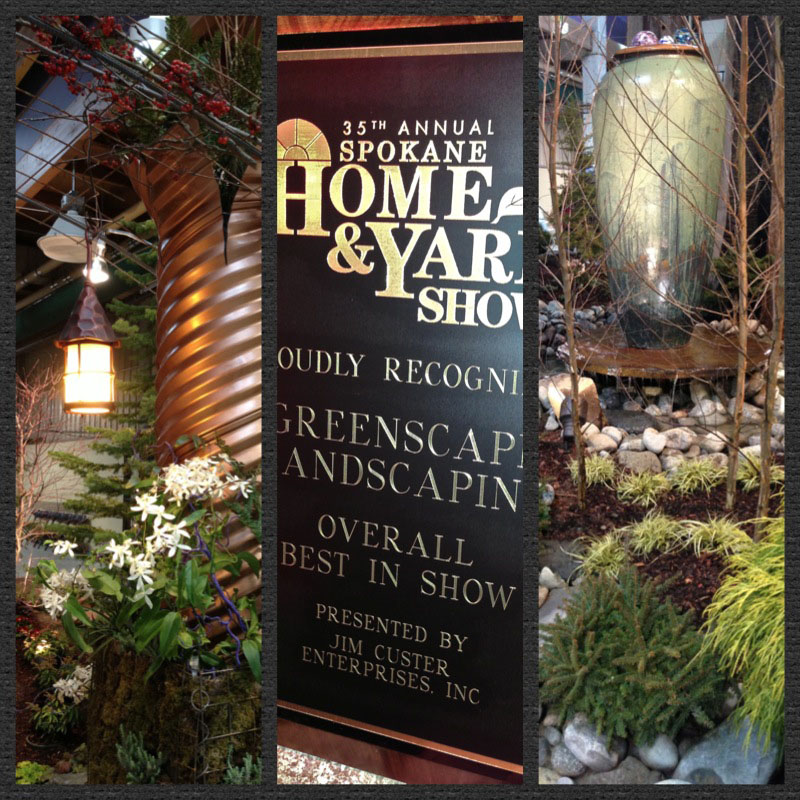 beauty and performance. Landscape design, like any creative work, is rarely a linear process, but there are points along the way that are important in every design. Greenscape Landscaping and Barbara Safranek Landscape Design successfully collaborated to garner the Overall Best in Show award for the 2013 Spokane Home & Yard Show. Our creative journey for the display 'Into the Woods' is a good illustration of the design process.
The Wish List
Every client has hopes and requirements for their landscape. Listening carefully, reviewing pictures (worth a thousand words) and developing a 'Wish List' of goals and objectives for each design is the foundation for the process. For the Home Show display client Aaron Farr, owner of Greenscape Landscaping wished to showcase patio, water and fire features. Aaron provided me generous creative latitude, but the overarching and compelling objective was clear: to ignite imaginations with an inspired and captivating landscape.
The Site
Sun, shade, existing plants, wind, views, architecture, soil – these are some of the qualities and features that define a site. As a designer, taking stock of the site is an important step in understanding and working with the physical realities and character of the place. Inside the Fairgrounds building our 'site' was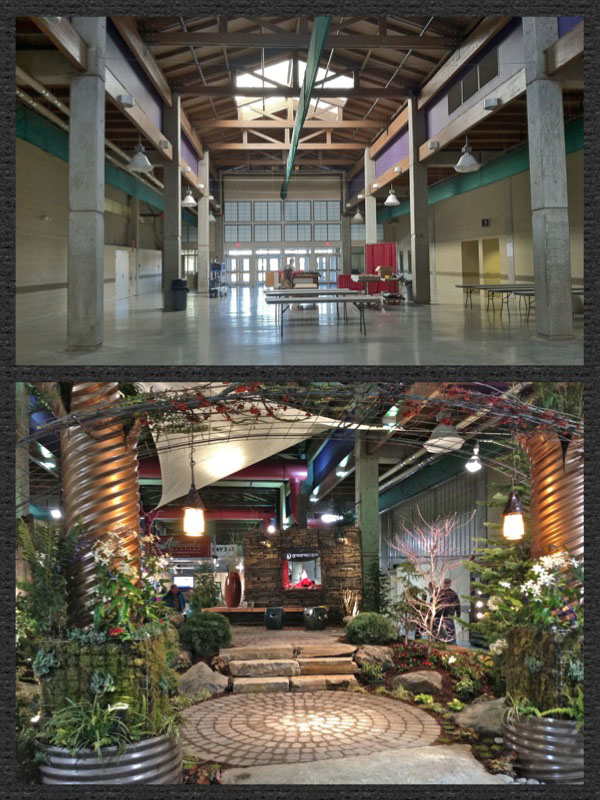 a 30' x 30' concrete square framed by four 17' pillars – a gray, lifeless cavern. Creating a garden with warmth and beauty required truckloads of soil, stone, wood, and carefully collected living plants, days contouring, laying pavers, and wielding stone. My challenge was directing the arrangement of all these elements into nature-modelled communities that would create a woodland experience that invites, flows, and delights.
The Spark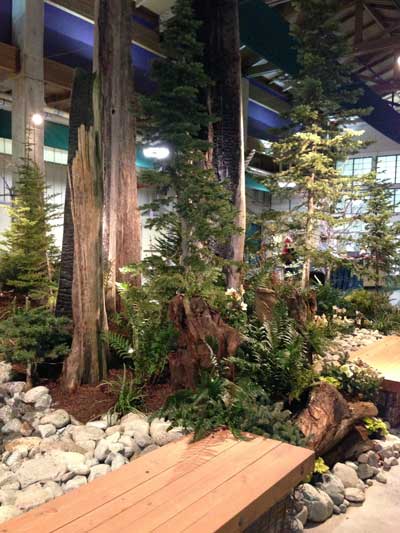 What will inspire or breathe life into a design may be revealed at any stage of the design. In the case of our show display, three majestic charred cedar snags provided inspiration with their size, dramatic history and sculptural beauty. The display design would grow organically from these elegant giants, like a forest from a nurse log – saplings and ferns nestled in the understory, water flowing and a rustic fire place warming the deep woods. Our entry arbor pillars made from industrial culverts splayed and planted, echo the cedar snags.
History & Culture
There's an underlying context to every design, perhaps rooted in a place or surrounding community, often imported with residents in their dreams and memories. In our past Home Shows, we've created a signature detailing in each display repurposing industrial materials. We've employed rebar and concrete mesh in fences and metal culverts as planters. This year we incorporated the gabion into our design – a wire box designed to fill with rock and used to retain and stabilize slopes and banks. The gabions continue an urban-industrial thread in our home show history.
Playfulness
Play is a lighthearted, friendly interaction between the players: site, designer, client, construction team and materials. Aaron, his craftsmen and I played with gabions to see what interesting features might evolve. Rock was stacked, moss and burlap stitched, and wooden benches crafted to create our built elements, a double sided fireplace, gabion benches and vertical gardens. Our display is also accessorized with a sense of playfulness with glass floats bouncing in the fountain, stone mushrooms pushing through forest plantings, frogs, cranes and dragonflies populating the woods.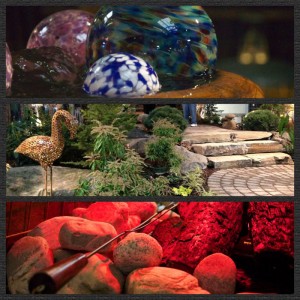 Execution
The final phase of the design process, plan in hand, is the beginning of construction. Your choice of contractor sets the tone for the project. Look for a steady manager with a collaborative spirit and a respect for design who will work to bring your vision to life. For achieving a finely tuned, exceptional landscape, owners and designers who stay involved in construction have a distinct advantage.
I hope that Into the Woods provided show-goers a memorable garden experience that speaks to compelling design, creative designer-contractor collaboration, and joy in crafting beautiful landscapes. Thank you to the undaunted and good-spirited craftsmen at Greenscape who worked with me to bring this design to life.